Special reversing gear on board Mts Nesselande
Yesterday was a landmark moment for us! A special Masson twin-input single-output reversing gear was hoisted aboard MTS Nesselande. With the reversing gear now in place, Vink diesel will start with the associated installation work on board.
This inland navigation vessel will have two DAF MX13 Euro 6 – EU stage V certified engines of 390 kW @ 1675 rpm each fitted. Currently higher power Stage V motors are limited in supply.
The Masson W 2800 Y reversing gear is a special development to enable the combined (or individual) power input of two separate diesel engines to drive a single propeller shaft. Thanks to this design a combined maximum propeller shaft power of 780 kW is available
Combining multiple smaller diesel engines, as done here, provides significant advantages regarding fuel consumption, emissions and maintenance costs.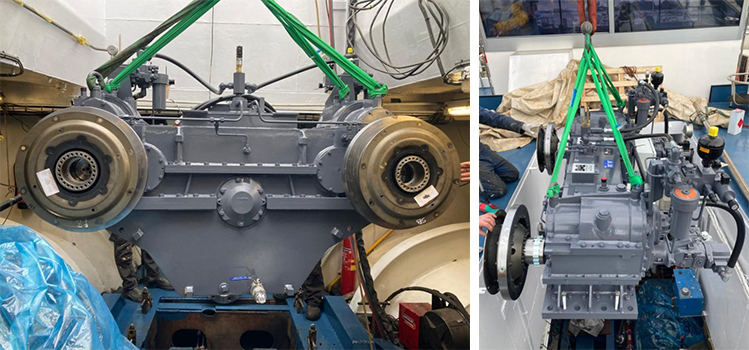 We thank the Junger family for the trust placed in us, and wish Vink diesel success with the installation.
Ps. Curious about what is possible? Please contact us!