Reverse reduction and clutchable reduction gearboxes
Reverse reduction and clutchable gearboxes
Our reverse reduction and clutchable gearbox programme is very wide in a power range from10 to 14000 kW with 0.8:1 to 14:1 reductions. Robust aluminium casings for fast ships and luxury yachts with a vertical/horizontal offset, down-angle or V-drive. For commercial applications we have either cast-iron or welded steel casings with vertical or coaxial offset, that can be used for propulsion, pump drive or otherwise. Clutchable or non-clutchable and two speeds are among the possibilities. Build-on parts such as PTO, PTI, PTH, trailing lubrication pump and monitoring are also available. In the field of reverse reduction gearboxes, ADS van STIGT has the largest stock of factory new gearboxes in Europe. Apart from this, we have various rebuild units.
Service
Our workshop in Gorinchem is especially equipped for the maintenance of reverse reduction and clutchable reduction gearboxes. Our engineers are certified by ZF Marine in Germany and Italy and by Masson in France.
ZF-marine
ZF Marine reverse reduction and clutchable reduction gearboxes are the cream of the crop regards to weight and compact building.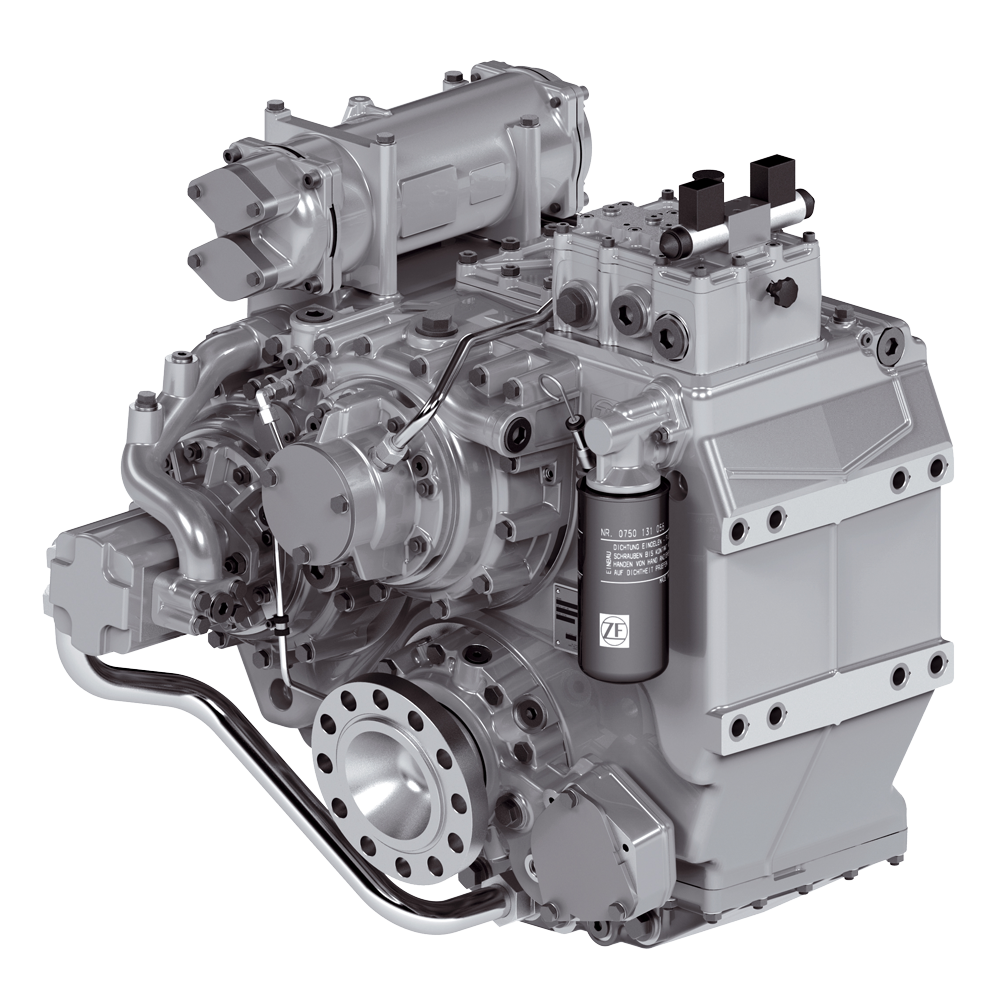 Below, you will find the ZF Download Centre for general data and drawings per ZF Marine transmission:
Advantages of ZF
The casing is ultra-light due to using both a special aluminium alloy – developed by ZF – and a sophisticated design. Also in the field of gear design ZF excels, so that a great power density is reached at a low noise level. The large range of ZF's transmissions is assembled per type with various configurations: parallel offset, at an angle, in a V or in U.
Typical ZF applications
The ZF Marine light-weight designs are mostly used in fast-sailing ships, from luxury yachts to patrol boats and from catamaran working ships to ferries. Where weight plays less of a part, it is also possible to choose a cast-iron casing. Our company is highly knowledgeable as to ZF as far as selling and servicing is concerned. Apart from this, we keep a large stock of ZF transmissions as well as spare parts. Production according to ISO 9001.
Masson Marine
One of the main suppliers of ADS van STIGT is the French firm Masson Marine. Among other things, Masson makes reverse reduction and clutchable gearboxes in the capacity range of 350 to 3,800 kW. Masson is an expert in PTOs with 1 to 5 shafts, live as well as clutchable. The Masson gearboxes are very suitable for hybrid propulsions. Based on present technologies and small adaptations, the Masson is widely used within the hybrid market.
Reverse reduction and clutchable gearboxes
Reverse reduction and clutchable gearboxes with their shafts in line (coaxial), high transmission ratios up to 14:1, two speeds and PTI solutions. Masson supplies a true working-ship gearbox for inland shipping, towing , fisheries, coastal navigation, yet also very suitable for sand-pump and jet-pump drives. In the fields of sales and servicing, our firm has an extensive knowledge of Masson. Apart from that, we keep a large stock of both complete products and spare parts. Production according to ISO 9001.