Five Katsa reduction gearboxes for Holland Shipyards Group
Sustainability is definitely becoming the new standard in professional shipping. At the beginning of this year, Holland Shipyards Group awarded us an order for five, type 2L550, Katsa reduction gearboxes. These reduction gearboxes are intended for three new coasters from Hartel Shipping & Chartering BV and two seagoing vessels from De Bock Maritiem BV. The vessels are designed by Conoship International and the Holland Shipyards Group is responsible for the complete construction of the vessels.
Hartel Shipping & Chartering BV have opted for a diesel-electric propulsion system. The vessels are powered by two electric motors with a combined power output of 749 kW. The frequency-controlled, diesel-electric propulsion system controls the propeller speed on the basis of operational variables such as load, water depth, and navigation route. Calculations have shown that fuel savings of up to 35% can be achieved, with a corresponding reduction in emissions.
De Bock Maritiem has also opted for diesel-electric powered ships. These seagoing vessels will transport dry cargo and due to their low draft, they are also suitable for the Rhine and other inland waterways. Compared to an average vessel from the present European short-sea fleet of this tonnage (3,600 tons), they are expected to emit up to 50% less CO2.
Remarkable feature of the vessels for De Bock Maritiem BV is their modular design in preparation for a future energy transition. The generators are located in an easily accessible space on the top deck, making the vessel well-suited for future conversion to a different type of fuel.
The reduction gearboxes (with thrust bearing) that we supply are specifically suitable for vessels with electric propulsion. With the Katsa 2L550 reduction gearboxes, we help shipbuilders to make optimal use of high-speed electric motors with lower torque. This gives them the opportunity to choose a standard or smaller size electric motor. By placing two electric motors on one gearbox, the system is also redundant. The Katsa gearboxes supplied have a reduction ratio of 6.5:1.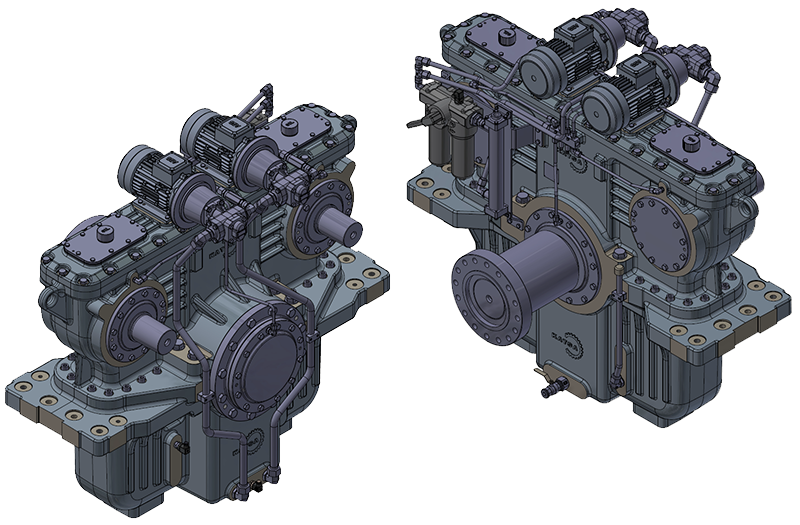 On behalf of the ADS van STIGT team, we thank Holland Shipyards Group and wish them every success with the construction. We look forward to a pleasant cooperation!
Photo 1 via Conoship International